Wearing a mask has become an essential part of our daily lives, but for those who wear glasses, it often comes with a frustrating challenge: foggy lenses. Fortunately, there are several effective solutions to prevent glasses fogging when wearing a mask. Let's explore the process of lens fogging and discover five helpful techniques for keeping your glasses clear and fog-free.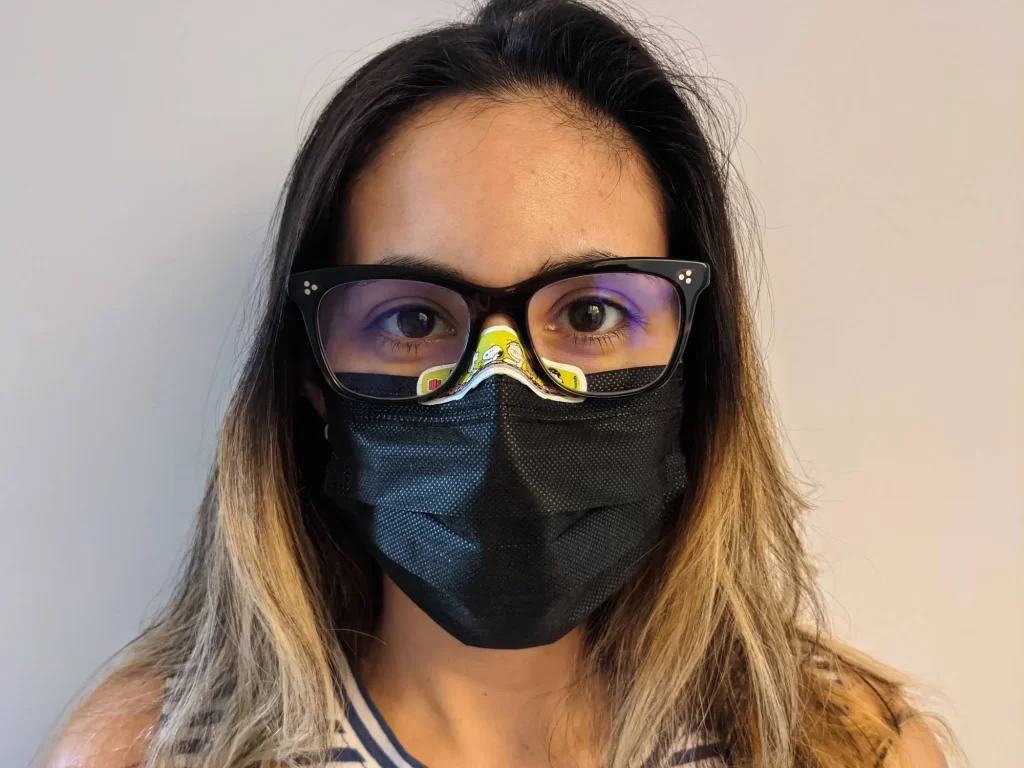 The Process of Glasses Fogging
Glasses fogging occurs when warm breath escapes from the top of the mask and comes into contact with the cooler lenses, creating condensation and obstructing vision. This phenomenon is particularly common during colder weather or when breathing heavily. The good news is there are practical steps you can take to minimize or eliminate this issue.
Effective Solutions for Preventing Glasses Fogging
Proper Mask Fit
One of the primary factors influencing glasses fogging is the fit of the mask. Ensure that your mask fits securely over your nose and cheeks, with minimal gaps. A well-fitted mask helps direct your breath away from your glasses, reducing the chances of fogging.
Upper Mask Adjustment
To further prevent fogging, adjust your mask in a way that keeps it close to your face and allows it to sit higher on the bridge of your nose. This adjustment helps direct your breath downward, rather than towards your glasses. Consider using a mask with a moldable nose bridge or using a nasal adhesive strip to secure the mask in place.
Tape as a Solution
Another effective technique involves using tape to create a seal between your mask and skin on the top edge of your mask. Medical or athletic tapes are suitable options. Apply a small strip of tape along the upper edge of the mask to prevent hot breath from seeping upward towards your glasses.
Anti-Fogging Products
Numerous anti-fog products are available that can be applied to your glasses to reduce fogging. These products create a thin barrier that prevents condensation from forming. Look for specific anti-fog wipes, sprays, or creams designed for lenses. Apply the product according to the manufacturer's instructions for optimal results.
Special Lens Cleaning Solutions
Using lens cleaning solutions specifically designed to combat fogging can also be effective. These solutions contain ingredients that minimize fogging by creating a thin film on the surface of the lenses. Apply the solution as directed and wipe the lenses clean before wearing your glasses with a mask.
By employing these practical strategies, you can significantly reduce or eliminate glasses fogging while wearing a mask. Experiment with different methods to find the one that works best for you and provides the clearest vision.
Remember, maintaining proper hygiene is crucial. Make sure to clean your glasses regularly with a microfiber cloth or lens cleaning wipes to remove any dirt, oil, or residue that may contribute to fogging. Additionally, washing your mask frequently will help ensure it stays clean, improving both its effectiveness and your overall comfort.
In conclusion, wearing a mask and glasses simultaneously can present challenges, but with the right techniques, you can minimize or eliminate glasses fogging. Whether it's adjusting your mask, using tape or anti-fog products, or cleaning your lenses with specialized solutions, these solutions offer practical ways to maintain clear vision while protecting yourself and others. So, don't let foggy glasses hinder your daily activities—embrace these tips and enjoy fog-free clarity under your mask!